Dear Friends,
Spring is just around the corner and we have already begun the greenhouse planting of some of the seeds for our early summer crops. We are pleased to announce that we're officially going to be back at both the Main Street Market (temporarily being held at the Museum of Nature) on Saturdays, and the Lansdowne Market on Sundays.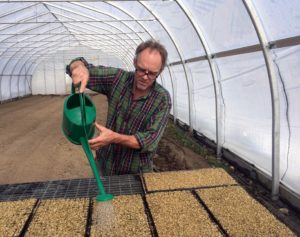 Seedlings and Vegetables
We are planning, initially, on a tasty range of greens and seedlings galore – tomatoes, eggplant and more. If you're looking to start your own little garden, please stop by!  We are one of the few spots where you can get organic seedlings, which promise safer food for you, your family, the bees, the butterflies and the rest of the ecosystem.
Pork
Towards the end of March we will will have a variety of cuts of pork available at the farm or for delivery. The cuts are from our own naturally produced animals, which have received no antibiotics or growth hormones and were fed with certified organic grain and vegetables.
Chicken
We also still have some organic free-run chickens, fed with certified organic grain and containing no antibiotics or hormones. These White Rock variety are excellent roasters and are in the 8-10 pound range. Please give us a call or send us an e-mail if you are interested!
CSA – Heads up!
In 2016, we will once again be offering our wonderful weekly Community Supported Agriculture (CSA) vegetable boxes for Perth, Carleton Place, Kanata and Ottawa (check our CSA page for the precise addresses). There will be 18 weeks of super fresh, organic vegetables. If there are enough members to warrant a special delivery, we will also consider other areas such a Carleton Place. We are updating our contact list for the 2016 season. If you would like to subscribe and stay informed of our farm activities, including when, where and how to get some of the most delicious organic vegetables in the region, please register on our home page.  You will only get our news, if you sign up!
As we all know, as the Spring advances, new products start to make an appearance in rapid succession. It will change every week and we'll keep you updated here on what will be available.  So check back often. We thank you for your support and we look forward to connecting with you through the season. Bring your little ones: we are known to sneak them tasty treats from the stall.  It brings us great joy to watch the little ones delight in fresh, sweet, seasonal fares! We look forward to serving you again this year.
The Waratah Downs Farm Team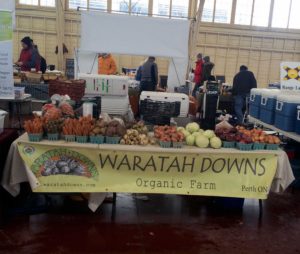 P.S. If you are craving some fresh, sweet and crunchy root vegetables right now, come and see us at the Ottawa Farmer's Winter Market at Lansdowne Park on Sundays.